Dellcom Aerospace Capabilities
We are proud to provide on-going support during short lead times and just-in-time environments.
State of the art, multi-axis "Lights Out", high speed machining
Sub-assembly operations
Ongoing process and product improvements
Dedicated project management and customer-centric management
Engineering services
Assembly services – installation of hardware (bearings, bushings, rivets etc.) and the application of sealants and bonding adhesives.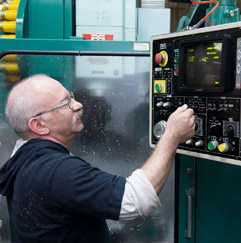 Our expert team reviews all customer design specifications and provides feedback to ensure it is the best designed part for efficient, cost-effective manufacturing before production.
Every step of the production process, from start to finish, is rigorously monitored and updates are provided to the customer on a regular basis, ensuring there are no surprises and opportunities for improvements are optimized.
Working with our outside partners, we offer turn-key manufacturing solutions for components and assemblies.
How can our high speed machining capabilities help your business?